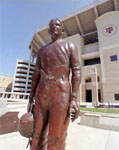 TO BECOME A MEMBER OF THE

CHARLOTTE AREA A&M CLUB, PLEASE
JOIN our email list.
JOIN our Facebook Group.

IN 2011,THE CLUB WILL REQUEST $20 DUES.
IN 2010, The Charlotte Area A&M Club Board of Directors chose the Ronald McDonald House of Charlotte to become the official local non-profit organization that our club will support.
In May 2011, the house officially opened.
Click Ronald McDonald House to learn more
Melanie Sorrell – AggiePhilanthropy@yahoo.com
Dues will assist in helping us defray a portion of expenses that we'll incur while serving our community and enjoying each other's company.
PLEASE CONTACT ANY CLUB
OFFICER FOR MORE INFORMATION.